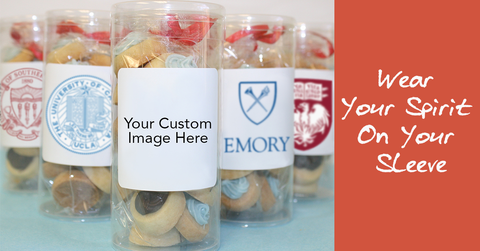 Whether it's school spirit, team spirit, or spirit in the workplace, show your pride with a Custom Sleeve of our Little Dot Sugar Cookies! Just upload your image, choose your cookie colors, and add a complimentary personalized note. We will ship your cookies anywhere in the USA.
#SuperLoveSongs celebrating SPIRIT! 
From the Latin spiritus, meaning "breath," spirit is the essence in us all, the metaphysical consciousness that truly feels the love! "Spirit in the Sky" by Norman Greenbaum was released in 1969 and quickly became a gold record.
The lyrics of the song were inspired after hearing a gospel song and written in 15 minutes. The psychedelic music quickly flowed from the words and Norman's technique was inspired by Jimi Hendrix's Voodoo Child, another spiritual song.
Fun Fact: It's the second-most-requested song to play at memorial services, after 'Danny Boy'.