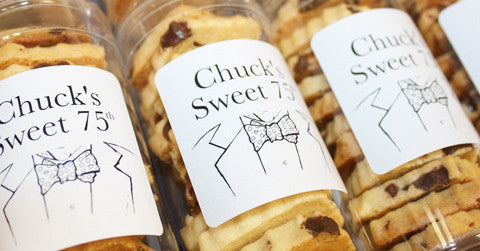 Mom always said, "Don't show up empty handed." Gracious host and guest she was creating custom cookie gifts and cakes before the founders of Etsy were even born. With four kids in the home and a mini farm in the backyard there were always extra eggs for baking and even more fabric swatches, grain bags, buckets or bins to upcycle into something creative looking. Finishing a cookie gift with a crafted hang-tag, tied with twine from a bail of hay, made customizing a gift truly an adventure.
Our traditional homemade cookie recipes have evolved over the years (our "crazy chip" cookie is inspired from my then three-year olds idea to "put all the chips in") as have the materials used for packaging something sweet and personal in our custom cookie gifts. The opportunity to work directly with customers stays the same though; we love it when the phone rings and we hear "I was thinking about…"
Whether it's creating something personal like a sketched profile label with our Chocolate Chip Snackies in a scalloped square for an individual's surprise birthday or an etched jar celebrating a company milestone, custom cookie gifts say it sweetly.
The best way to customize a cookie gift is to follow a few steps:
What is the occasion do you have a photo or canister you would like to incorporate?
Is your custom cookie gift for one person or many – we can source in bulk which helps make volume custom cookie gifts more economical while celebrating creativity
Timing – we bake-to-order and ingredients are always fresh so we want to make sure the containers are on-time and ready to be packed 
If you have a logo upload it …and if you have an idea, share it. Personalizing a moment be it a milestone birthday or just a sweet gesture to show you care is always a welcome opportunity to create the most loving custom cookie gift for our Super Love Cookie team.