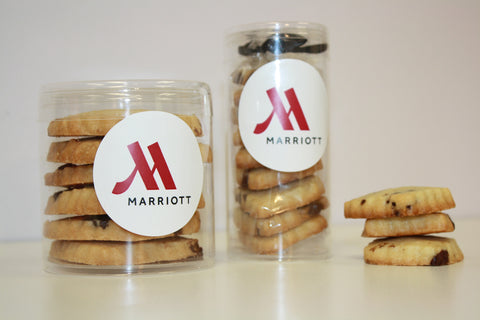 Promotional cookies take the catchphrase SWAG (Stuff We All Get) and turns it into "Sweets We All Get."
When it comes to business, enhancing your brand presence during trade shows, press junkets or media events, oftentimes requires creating merchandise with your logo on it for a takeaway. Today's creativity and innovation has written off the promotional pen as we see more companies turning to mobile accessories which keep products in view long after the promotional event. But too much "stuff" is a turnoff to some and having a food item like a promotional cookie wrapped with your business card provides a pick-me-up on long days. 
Promotional cookies baked with premium, natural ingredients deliver your contact information in a delicious way and Super Love Cookie's innovative twist on traditional flavors make every bite memorable. Our merchandise designers are experts in the promotional space and know how to create unique corporate gifts packed with cookies, to the perfect individually wrapped promotional cookie. 
Follow a few simple steps to help identify the perfect branded cookies to elevate your brand during public events or when building client relationships:
1. know your industry and unique characteristics of people within the industry
2. Know your own company. What is unique about your corporate culture, philosophy, or key highlight of your product or service?
3. Identify your budget, and then push the envelope to find a product you can brand in a unique way. 
Even the simplest mug provides innovation. From two-tone color (outside color/inner color) with a message at the bottom of the mug, to an innovative travel mug, most products have a simple design twist to help you differentiate. Elevate your branded merchandise by packing it with promotional cookies and you are sure to leave a sweet, everlasting impression.