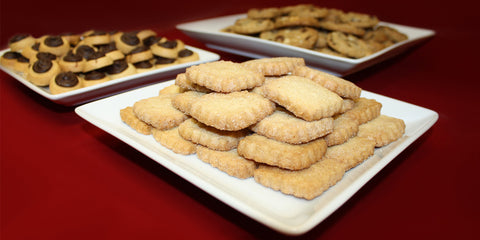 The smell of fresh baked cookies delivered to your doorstep will trigger childhood memories for anyone. Remember trying to sneak chocolate chips and licking the mixer paddle once the cookies were placed on the tray and set in the oven? With four siblings in my house … I had to race to get a paddle or grab the bowl and sneak away before anyone caught me.
Once we learned the Tollhouse recipe by heart my two sisters and I would experiment with adding other ingredients. From Rice Crispies or Corn Flakes to dried apricots we had made in a 4-H "Food Dehydration" class …yes, we were that family. A childhood spent in the kitchen baking bread and other yummy dishes is what formed my appreciation for spending time in the kitchen as an adult. It's a multi-sensory experience and when you add a little music it makes even the worst day seem just right.
Fresh baked cookies became my calling card in life. Inspired by my mom's philosophy "Don't ever show up empty handed" I probably baked thousands of cookies for clients before deciding this is a pretty good pivot in life. Wrapping fresh-baked cookies creatively to celebrate a wedding theme, new baby, or corporate tradeshow elevates the cookie eating experience and leaves a lasting impression for my clients.
Celebrating traditional recipes innovated over the year's keeps the philosophy "never show up empty handed" alive and kicking for friends, family, and companies realizing connecting with customers still matters. So if you can't meet in person send a batch of fresh-baked cookies personalized to show you know more about your friend, loved one or customer than they thought you did. Having fresh baked cookies delivered also eliminates a kitchen to clean up so grab a glass of milk, cup of tea, or a glass of wine to pair with your next order.