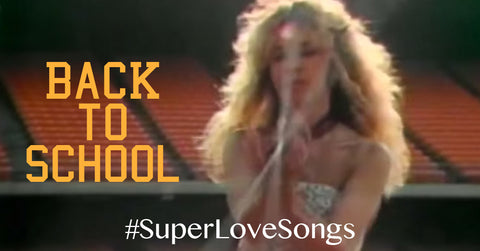 Send something sweet to your student with our custom college care packages! Get 15% OFF your custom package with code B2SKL!
Are your feeling that Super School Spirit? This playlist will get you pumped for heading back to school!
The song "Tusk" by the famous band Fleetwood Mac is performed by the marching band at every USC game. The music was based on a riff the band used to play when they were introduced at concerts. 
In 1977, Fleetwood Mac released Rumours, which was one of the most successful albums ever. Tusk was the follow-up, but the band (especially Lindsey Buckingham), decided to experiment instead of copying the sound of Rumours. The result was some very adventurous songs, but fewer album sales.
The video for the song was comprised of clips from the band recording the University of Southern California marching band at Dodger Stadium. The group's bass player John McVie had a falling out with Lindsey Buckingham and never made it to the stadium, so he was replaced in the video with a cardboard cutout. When MTV launched in 1981, the song had already been out for two years, but the network played it anyway, as they didn't have many clips by popular Rock bands.
Lindsey Buckingham played some of the drums for this track on empty Kleenex boxes in his bathroom and recorded some of the vocals lying on the floor. 
During the recording of the album, Mick Fleetwood had got a pair of elephant tusks. These were set up on either side of the console, and it became known as "Tusk." Whenever the console wasn't working, the band would say, "Tusk is down, Tusk isn't working!"
What song makes you feel that Alma Mater Pride? Share with us in the comments below! 
SUBSCRIBE to our YouTube channel for weekly playlist updates!