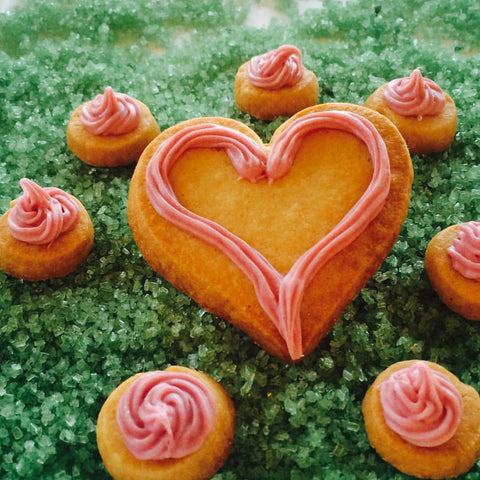 Sending a natural cookie gift doesn't mean dry, tasteless and Gluten Free. Today, artisan ingredient and product manufacturers are finding creative ways to deliver natural alternatives to over processed foods. Butter, sugar, and flour are key ingredients in our scratch-made, baked-to-order cookies and we are lucky to have locally sourced ingredients in every batch ...many coming from B Certified companies. 
Recently though, we couldn't find the perfect shade of green for a grass effect in a cookie display so we turned to Color Kitchen Foods and voila ...suddenly it was so easy being green. Blending the company's natural, non-GMO colors derived from beets, radishes, turmeric, spirulina, and other vegetable-based ingredients with our sanding sugar made for a wonderful variation of green.
Additionally, working with flours from family-based companies like King Arthur Flour we know we are using gently harvested and milled ingredients that add a wholesome quality to our natural cookie gifts. The ultimate goal when creating a wonderful baked good or food-based gift is to identify what you'd like to create and find products with the cleanest ingredients and simplest process. If you are enhancing a special gift like a picnic blanket, add a sleeve of cookies paired with a bottle of organic wine. Or a tall mug with a custom message is extra special when bundled with a sustainably farmed coffee and cookies ...have you tried our Oatmeal Peabody? 
Natural cookie gifts give your recipient an extra special feeling; even if it is a sweet gift the idea that something wholesome, made from clean ingredients, and wrapped thoughtfully will make eating the last cookie almost guilt-free.