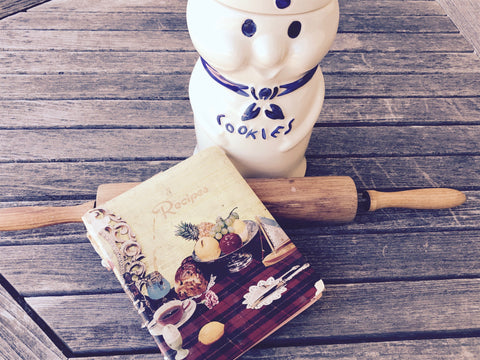 Do you ever stop and ask yourself "How did I get here?" Twenty years into a job …or maybe two years into a job …what moment, catalyst, experience, or person influenced the direction of your work or life plan? 
Screaming "Oh my gosh!" in an antique store a couple years ago on my birthday my sister rushed to where I was in the store and scooped up the cookie jar I was staring at then ran with it to the counter. She immediately purchased it and handed it to me with a "Happy Birthday!"
The cookie jar was exactly the one I had bought for my mother many …many years ago. My mom hated the gift because it made her feel like she was destined to just baking cookies (Roberta was a journalist and a huge community leader whom also entertained regularly in the home …hardly just a cookie baker). I, on the other hand, held on to the memory of the cookie jar because it reminded me of our kitchen which was always filled with the smells of something baking. It was also the one room in the house where we all seemed to get along well. Deaths, fires, and multiple moves and jobs, the one item I always wished I still had was the cookie jar. So, when my sister handed the cookie jar to me it was like opening a door I had been knocking on for years.
Every job I've ever had and every client I've sat in meetings with, I've always brought cookies to share and enjoy. Not just because I was taught at an early age that one should never show up empty handed but because cookies trigger memories …most often pleasant memories and that's the best way to start a meeting or gathering in my opinion. Fresh baked cookies are my moniker; simple ingredients blended into traditional recipes I've turned up a notch over the years.
Nothing says I'm thinking about you, or care about you, like a scratch-made, fresh-baked cookie. And making cookies requires engaging every sense so the moment you open a bag your senses are reignited and you can't help but feel good. I challenge you to this experience if you don't believe me. Because of my marketing and design background it was only natural that I would wrap my sweet leave-behind treats in branded packaging. A cookie jar, and a client saying: "would you ever consider marketing with your cookies?" was the sweet nudge to pivot my path in life. 
#SuperLoveSong Once in a Lifetime, Talking Heads