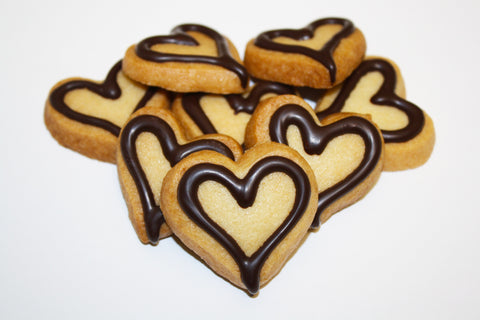 Gourmet cookie gifts stacked in a tier with ribbons and bows were once the traditional way to celebrate the holidays. With the trend in innovating the snack food industry - including cookies - just scan your local grocery store aisle and you'll find so many options that we can say "gourmet" has become mainstream. More flavors and flavor blends you'd never imagine working together are topping the list for some; while others still prefer the simple ingredients.
Merriam-Webster defines "Gourmet:" a person who enjoys and knows a lot about good food and wine. ...Well we know cookies and we think they pair nicely with wines, teas, and other drinks (ore ice creams). 
Super Love Cookies elevates traditional Gourmet cookie gifts recipes by using simple, premium ingredients creatively blended into our cookies which we mix in small batches. The art of cookie baking goes beyond the cooling rack; thoughtfully wrapped, our cookies arrive boxed, bagged, or in a tube you can personalize but it will always arrive like a gift.  
Sure you can buy specialty foods in most stores but receiving a hand-wrapped gift packed with fresh-baked cookies causes one to pause and enjoy the moment a little bit more ...and don't we all need to that a little bit more these days?