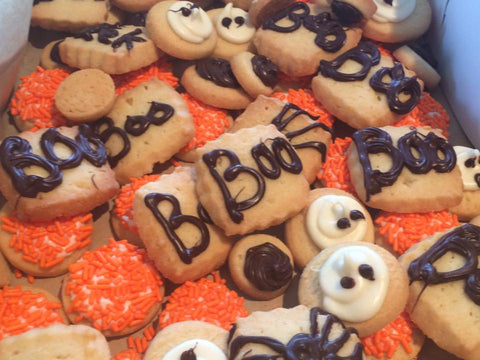 Halloween Decorated Cookies, Cocktails, and Spooktacular Decorations!
October is the month to fall into the holiday spirit beginning with a Howling Halloween party packed with not-so tricky nibbles and pumpkin decorated cookies!
More and more families are getting together to celebrate with costume parties and cookie decorating so if you're scared you're going to miss out on the fun enjoy these quick and easy ideas and links and get your ghoul going:
Create a Haunted House – from spider webs to black lights turn your home into a ghostly getaway for a couple weeks before the big Trick-o-Treat night with fun ideas here. Slither into shopping mode for spider webs, garden lanterns and then sprinkle spiders and bugs.
HOWLING HAPPY HOUR - Punch bowls filled with icky ice make the drinks fun and easy. Just freeze plastic spiders and bugs in ice and let them float happily in red punch or just go for water tinted with red food coloring. If making ice cubes is the death of you opt for these fun, easy-to-freeze Skull cubes. For adults, lift everyone's spirits with wicked cocktail recipes.
TRICKY NIBBLES – Make mealtime super easy because everyone just wants to get to the candy. Finger foods ready-to-go when guests arrive are a best bet. Click through and cook away with these ideas. 
Don't let anyone leave empty handed. Our Boo Bite Cookies and pumpkins arrived decorated and in nibble size.
And Halloween isn't just for families anymore – deliver a "No Tricks, All Treats" gift to your clients this year. These cookie gifts deliver on fun and provide the perfect, personalized message as you wind down the year and ramp up sales! Just click, upload your own logo and message and we'll customize for Halloween.
Share your Halloween ideas with us on Facebook and you might just get "boo'd".