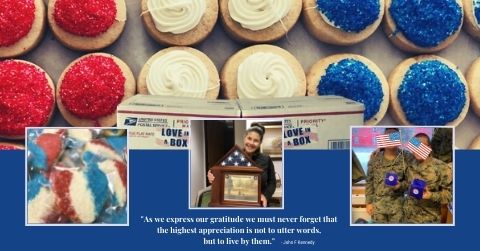 Remember the Heroes on Memorial Day
Before the barbecues, baseball games, and adventures to the beach, please pause and realize what this weekend memorializes. 
Memorial Day honors, and remembers, those who served our country and are no longer here on Earth but are forever in our hearts. 
I feel honored to have received a call years ago from an incredible wife and mother asking if I would send cookies and care packages to our heroes and sheroes serving our country. One of my first orders turned into an incredible opportunity to LoveItForward. This touched me personally as my father, and his fellow veterans, flew yearly to serve our troops with a "thank you" barbecue. Now I was sending the cookies.
SuperLove Cookies was launched on a whim when a client said "you should sell your cookies." Most often, my clients only wanted to meet in person as they knew that the agenda always came with a fun theme wrapped around fresh-baked cookies. The side hustle grew during Covid but the mission was always #LoveItForward and #EveryHeartHelpsAnother. 
In just a few years, we've baked and shipped over 100,000 hearts and thousands of pounds of cookies, snacks, promotional items for companies and individuals. All the while, elevating client and employee engagement programs and marketing campaigns for companies all over the world. 
Cookies connect, and each client project or sale puts another item in the box. What started as a little add on to client services has grown into a mission-forward endeavor to honor our heroes with a heartfelt package to show our appreciation. 
Remember, because of our sheroes and heroes: you get to post your opinions; live as you choose; stand up for any cause; and believe whatever it is you want to believe. To argue this point is your freedom as well. 
Please LoveItForward on Monday, May 30th. One simple gesture …a brief pause at 3pm to remember we are free because of the brave.